Welcome to the fraud season - I mean the snow season 😬
Btw, these aren't my words. I recently conducted a survey among 500 snow removal companies asking them how they avoid slip and fall lawsuits.
I was shocked to hear so many guys say that it doesn't matter what you do, people will sue. The answers I got ranged from ridiculously hopeless to comical to really helpful.
Here are some of them: 👇👇👇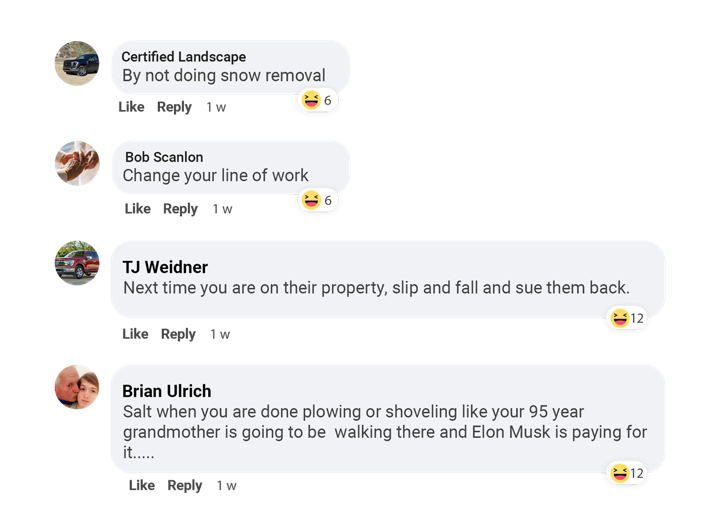 The answers from people who have been through the fire and came out unscathed talked mostly about doing your job right, having a good contract, and thorough documentation of your work. 
This was one of the best answers that I got: 👇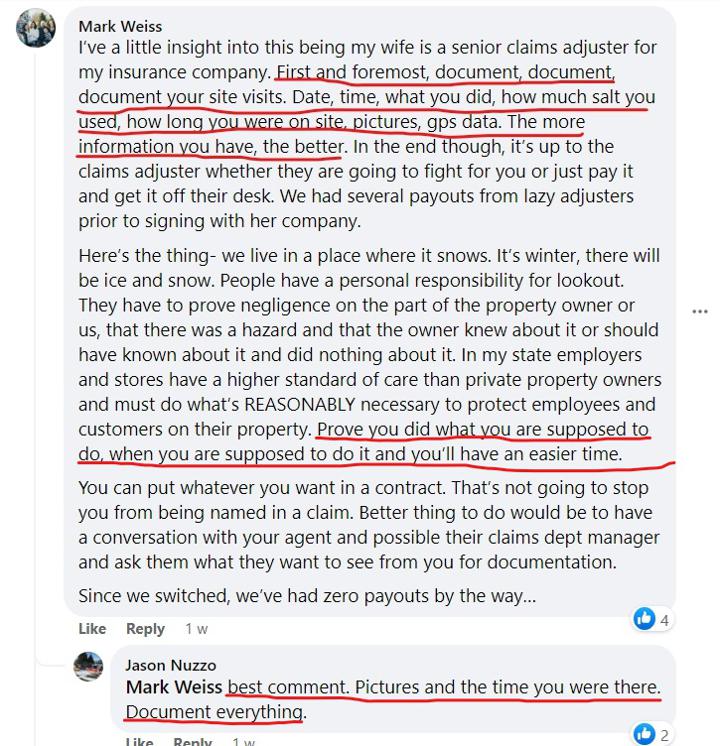 This prompted me to do some research on my own, and I found out that good documentation is something that all insurance companies unanimously suggest in case of slip and fall lawsuits.
If you've arrived on time, always, cleaned the snow property and salted afterwards, and you've got the evidence to prove it, you won't be charged for negligence. 😎
So, based on the collective wisdom of those who've beaten slip and fall lawsuits and the advice that insurance companies give, here are three things you can do to protect yourself: 👇 👇 👇 
1) Do quality work 👷 
Make sure not to overextend yourself. Make sure you have all the right equipment, and apply the appropriate amount of salt. 
Too little salt and they'll slip on ice. Too much salt and they'll slip on salt. 😬
If you don't have the know-how on the amount of ice-melt you should apply, visit SIMA (Snow & Ice Management Association) website. They've got some good stuff on that topic. 
2) Stay on top of your contracts 🧐 
Hire a good lawyer to create your contract and put the right verbiage in. Make sure the contract has a "hold harmless clause". 
However, based on the responses I got, if the person suing you hires a good lawyer, they might "blow the contract wide open". 🤯
So always have good insurance too, just in case.
3) Document! Document! Document! 📸
Record check in and check out times. Take photos of your work and geotag them on property maps. Include weather data too in your reports if you can. 
If it seems like too much work, try doing it on Plato - an app that my team has created exactly for such use cases. 👍
Plato helps you geotag photos+notes to property maps and saves time stamps as well. You can export this data as a PDF or Excel report 📝. 
It'll look something like this: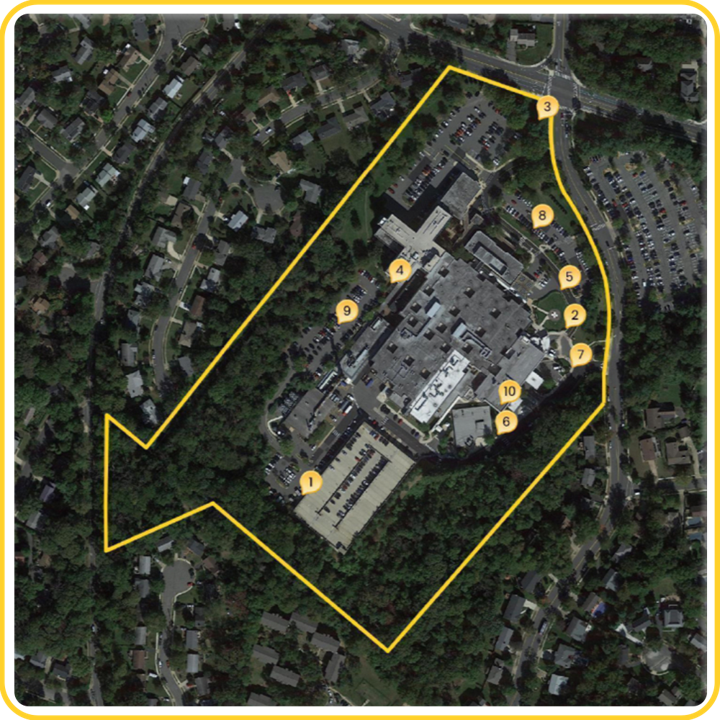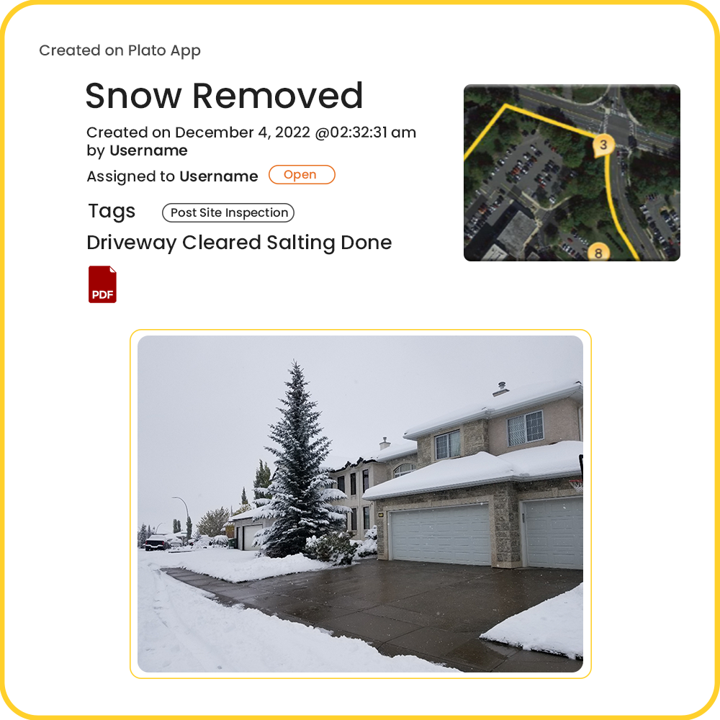 Why can't you use your phone to document work? 🤔
Two reasons: 
First, in the case of subcontractors, your client owns the photos if they are loaded into Plato. If it's 2 years before a lawsuit needs those photos the subcontractor could have deleted the photos or may not even be around anymore to get the photos from the device. 😶
There are so many reasons to own those photos in your database and not rely on devices to retrieve those photos when needed.
Second, to stand in front of a lawyer 👨‍⚖️ in a liability case with your cell phone is not very professional. 
Plato is an easy and very professional way to produce a high quality branded document with photos and notes. It combines everything into a neat clean report by event. 😎 
Cool, right?
So if you haven't gotten started yet, let's gooo! There's no time to waste.
Download the Plato App: CLICK HERE
If you need any assistance in getting set up, feel free to book a training call with our experts.
Book Training Call: CLICK HERE